so, my community has a little obessession with prom...
every year, the whole community comes out (moms, dads, neighbors, friends, students, strangers) to line up outside the high school to watch the prom-goers arrive.
the school puts up ropes and bleachers to "control the crowd"...
when the beauties start arriving, it's like red carpet at the oscars.
moms yelling "over here!" and friends hollering "stop! look here!".
flashes going off all over the place...
and the prom-goers EAT IT UP!!!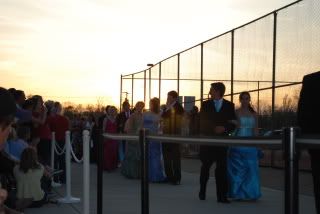 that's sarah and bobo...her senior year, his junior
i don't know who this is, but they made both of their outfits completely out of DUCT TAPE! seriously!
jen (my cousin) and her date, alex...they were the LAST ones to arrive...
we waited almost an hour after everyone else went in before they showed up...
it was worth it...at least we got to witness some drama in the meantime!